You can access the in game shop from your menu bar.
You can purchase all kinds of in game items in the shop with diamonds. You may also directly purchase diamonds and coins with real currency. VIP members receives up to 20% discount when purchasing in the shop depending on VIP level. Certain limited items may come on sale once in a while, so be sure to check the shop often for special deals.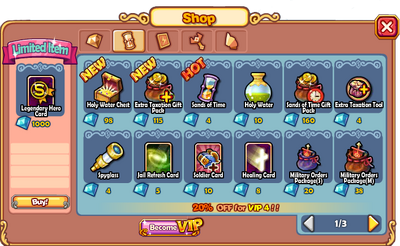 Ad blocker interference detected!
Wikia is a free-to-use site that makes money from advertising. We have a modified experience for viewers using ad blockers

Wikia is not accessible if you've made further modifications. Remove the custom ad blocker rule(s) and the page will load as expected.