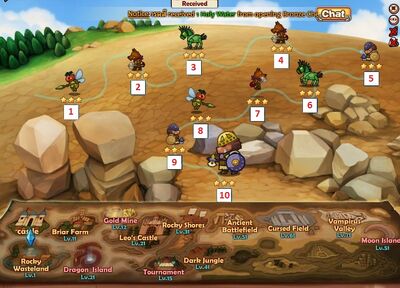 Rocky Wasteland is the first map location available. The enemies are very weak and easy to defeat with 1 or 2 unit formations.
Loot includes basic equipment and some skill cards for primary class heroes such as Broad Swordsmen, Halberdiers, and Rangers.

Strategy should be relatively straightforward. For the Boss, place a Halberdier in position #1 , and a Broad Swordsman in position #3 . After that, just place your strongest hero in position #4 or #6 .
Npc #1 - Formation

| | | |
| --- | --- | --- |
| - | - | - |
| Halberdier | - | - |
| - | - | - |

Reward 1: None

Reward 2: None

Npc #6 - Formation

| | | |
| --- | --- | --- |
| Ranger | Archer | - |
| - | - | - |
| - | - | - |

Reward 1: Double Strike Card (Common)

Reward 2: None

Npc #2 - Formation

| | | |
| --- | --- | --- |
| - | - | - |
| Broad Swordsman | - | - |
| - | - | - |

Reward 1: Cloth Armor (abundant)

Reward 2: None

Npc #7 - Formation

| | | |
| --- | --- | --- |
| Broad Swordsman | Broad Swordsman | - |
| - | - | - |
| - | - | - |

Reward 1: Spear of Morningstar (rare)

Reward 2: None

Npc #3 - Formation

Reward 1: Infantry Short Sword (abundant)

Reward 2: None

Npc #8 - Formation

| | | |
| --- | --- | --- |
| Halberdier | - | - |
| Halberdier | - | - |
| - | - | - |

Reward 1: Hand of Mercy (Rare)

Reward 2: None

Npc #4 - Formation

| | | |
| --- | --- | --- |
| Broad Swordsman | - | - |
| Halberdier | - | - |
| - | - | - |

Reward 1: Charge Card (Very Common)

Reward 2: None

Npc #9 - Formation

| | | |
| --- | --- | --- |
| Ranger | - | - |
| Ranger | Archer | - |
| - | - | - |

Reward 1: Long Stinger (Rare)

Reward 2: None

Npc #5 - Formation

| | | |
| --- | --- | --- |
| - | - | - |
| Halberdier | Archer | - |
| - | - | - |

Reward 1: Crescent Slash Card (Very Common)

Reward 2: None

Npc #10 - Formation

| | | |
| --- | --- | --- |
| - | - | - |
| Ranger | - | Archer |
| - | - | Sorcerer |



















Reward 1: Ledying Armor (Rare)

Reward 2: None