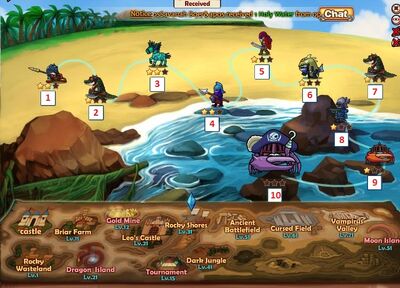 Rocky Shores is the fourth map available. You'll now be facing more difficult enemy formations and enemy squads commonly from 2nd tier classes in pretty much every spot.
Loot includes equipment from level 36 to 46. Note that it is better to farm equipment at Dragon Island for loot that has better Fusion potential. The Skill cards for the Rattan Witcher and Legionnaire are also found here.
The Boss shouldn't be too difficult but his units are very strong compared to the other NPCs found nearby so you may need to do some gear hunting and levelling before you can beat him. For the Rodelero, Legionnaire, and Halberdier at the bottom, simply place a Broad Swordsman in position #2  and an Axe Infantry behind him in position #5 . This should be enough for those 3. Now place your strongest defensive Lancer or Ranger in position #1 with a Legionnaire or Rodelero in position #4 behind him. These 4 will act as your defensive line. Now place your strongest offensive Sorcerer in position #8 , behind your Axe Infantry, and then place any strong offensive unit in position #7 . If you are not level 40 yet, you will have to suffice with 5 units instead of 6, in which case forget about the Sorcerer.
Npc #1 - Formation

| | | |
| --- | --- | --- |
| Magic Drummer | - | - |
| Legionnaire | Crossbowman | Ranger |
| Ranger | - | - |

Reward 1: Light of Dawn (Rare)

Reward 2: None

Npc #6 - Formation

| | | |
| --- | --- | --- |
| Rodelro | - | Soercerer |
| Ranger | - | - |
| Ranger | - | Sorcerer |

Reward 1: Tetstudo Card (Rare)

Reward 2: None

Npc #2 - Formation

| | | |
| --- | --- | --- |
| Axe Infantry | - | - |
| Rodelero | Broad Swordsman | - |
| Axe Infantry | Archer | - |

Reward 1: Posiedon's Trident (Rare)

Reward 2: None

Npc #7 - Formation

| | | |
| --- | --- | --- |
| Broad Swordsman | Sorcerer | - |
| Rodelero | Axe Infantry | - |
| Broad Swordsman | - | - |

Reward 1: Ghost Kris (Rare)

Reward 2: None

Npc #3 - Formation

| | | |
| --- | --- | --- |
| Magic Drummer | - | Ranger |
| Legionnaire | - | - |
| Magic Drummer | - | Ranger |

Reward 1: Staff of Shadow (Rare)

Reward 2: None

Npc #8 - Formation

| | | |
| --- | --- | --- |
| Rodelero | Crossbowman | - |
| Rodelero | - | - |
| Lancer | Lancer | - |

Reward 1: Giant Slayer (Rare)

Reward 2: None

Npc #4 - Formation

| | | |
| --- | --- | --- |
| Magic Drummer | - | - |
| Rodelero | Ranger | - |
| Ranger | Axe Infantry | - |

Reward 1: Jarngreipr (Rare)

Reward 2: None

Npc #9 - Formation

| | | |
| --- | --- | --- |
| Lancer | Ranger | - |
| Axe Infantry | - | - |
| Lancer | Ranger | - |

Reward 1: Bow of the Seraphim (Rare)

Reward 2: None

Npc #5 - Formation

| | | |
| --- | --- | --- |
| Magic Drummer | - | - |
| Legionnaire | Broad Swordsman | Ranger |
| - | Rodelero | - |

Reward 1: Entangle Card (Rare)

Reward 2: None

Npc #10 - Formation

| | | |
| --- | --- | --- |
| Magic Drummer | Broad Swordsman | Lancer |
| Rodelero | Halberdier | - |
| Legionnaire | - | - |

Reward 1: Starlight Warhorse Fragment (Rare)

Reward 2: None