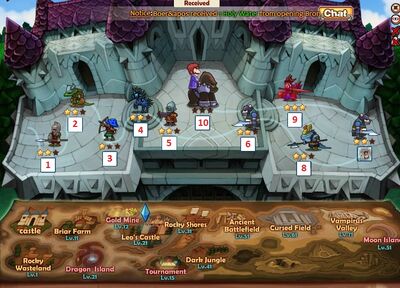 Leo's Castle is the third map available.. 2nd tier enemy classes such as Rodelero and Crossbowmen are now common and the formations are a bit more complicated with up to 5 enemies per NPC.
Loot includes equipment from level 26 to 34. Note that it is now better to farm equipment at Dragon Island for loot that has better Fusion potential. There are also Skill Cards for the Crossbowman, Lancer, and Axe Infantry found here. Npc formations are more complex but shouldn't be too difficult.
This is the first Boss, however, that might pose a problem. Leo is the Broad Swordsman in the back but really the biggest problem is the archer at the bottom and the crossbowman at the top as they are both very strong. The ideal formation to counter Leo is a Rodelero in position #4 to counter the Crossbowman at his top, and then a Ranger or Lancer in position #5 . Finally, place any strong attack units (ideally infantry or cavalry) in position #3 and another in position #9 (NOT position #8 because of the enemy Ranger's Charge skill). The reason the Rodelero is placed in position #4 and not #1 is to avoid the archer's Arrow Shower.
Npc #1 - Formation

| | | |
| --- | --- | --- |
| Rodelero | - | Sorcerer |
| Magic Drummer | - | Sorcerer |
| - | - | - |

Reward 1: Crossbow Storm Card (Rare)

Reward 2: None

Npc #6 - Formation

| | | |
| --- | --- | --- |
| Magic Drummer | - | - |
| Rodelero | Crossbowman | Broad Swordsman |
| Rodelero | - | - |

Reward 1: Gleipnir (Rare)

Reward 2: None

Npc #2 - Formation

| | | |
| --- | --- | --- |
| Magic Drummer | Archer | - |
| Ranger | Broad Swordsman | - |
| - | - | - |

Reward 1: Repeating Crossbow (Rare)

Reward 2: None

Npc #7 - Formation

| | | |
| --- | --- | --- |
| Magic Drummer | Halberdier | - |
| Magic Drummer | - | - |
| Halberdier | Halberdier | - |

Reward 1: Execute Card (Rare)

Reward 2: None

Npc #3 - Formation

| | | |
| --- | --- | --- |
| Magic Drummer | Archer | - |
| Rodelero | - | - |
| Rodelero | - | - |

Reward 1: Giant Halberd (Rare)

Reward 2: None

Npc #8 - Formation

| | | |
| --- | --- | --- |
| Broad Swordsman | - | - |
| Broad Swordsman | Broad Swordsman | Sorcerer |
| - | Halberdier | - |

Reward 1: Damascus Blade (Rare)

Reward 2: None

Npc #4 - Formation

| | | |
| --- | --- | --- |
| Magic Drummer | Ranger | - |
| Rodelero | - | Sorcerer |
| - | - | - |

Reward 1: Assault Card (Rare)

Reward 2: None

Npc #9 - Formation

| | | |
| --- | --- | --- |
| Magic Drummer | - | - |
| Broad Swordsman | Lancer | Lancer |
| Broad Swordsman | - | - |

Reward 1: Dragon's Spine (Rare)

Reward 2: None

Npc #5 - Formation

| | | |
| --- | --- | --- |
| Magic Drummer | Crossbowman | - |
| Magic Drummer | Crossbowman | - |
| - | - | Crossbowman |

Reward 1: Stary Harp (Rare)

Reward 2: None

Npc #10 - Formation

| | | |
| --- | --- | --- |
| Magic Drummer | - | Crossbowman |
| Ranger | - | Broad Swordsman |
| - | Archer | - |

Reward 1: Strawberry Frog Fragment (Rare)

Reward 2: None