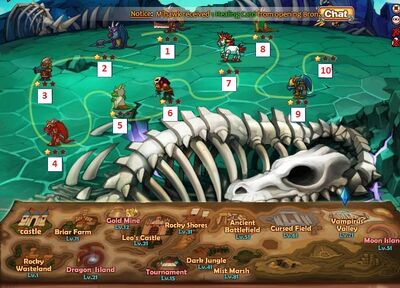 Dragon Valley, or otherwise known as Vampirus Valley on the World Map, is the 8th location available. At this point, the enemies are getting difficult and formations have 7 enemies each. By now, it is common to lose at least 400 to 500 troops per battle so your game may slow down quite a bit. All Hero Classes that exist are seen by now. 
Loot includes equipment from level 81 up to 88 and the skill card for the Priest. The equipment here cannot be found anywhere else, Moon Island doesn't go that high. That means, you're stuck farming here if this is the gear you're looking for (until another bonus island is added) There are also a couple of Hero Enchantment cards, however it's better to farm those at Moon Island.
Now then ... the Boss ... well the Boss is actually a joke this time. First off, if you detect the Boss and see a formation different from the one in the table below, go detect another Boss somewhere else and come back. Eventually you will get the formation below and that formation has one fatal flaw. Every single unit is unable to damage Grenadiers. This means, so long as you place a couple of decently levelled Grenadiers into positions #2 and #3, you are guaranteed to win. The only damage your Grenadiers will take could be from the enemy Broad Swordsmen using their Creasent Slash attack (causing minor damage each turn), but if your Grenadiers are at least somewhat levelled this shouldn't pose a problem. So yah ... enjoy.
Npc #1 - Formation

| | | |
| --- | --- | --- |
| Broad Swordsman | Catapult | - |
| Heavy Infantry | - | Priest |
| Heavy Infantry | Axe Infantry | Lightning Mage |

Reward 1: Spring Ode Card (Rare)

Reward 2: None

Npc #6 - Formation

| | | |
| --- | --- | --- |
| Magic Drummer | - | Lightning Mage |
| Magic Drummer | Archer | Assassin |
| Heavy Infantry | Lightning Mage | - |

Reward 1: El Blade (Uncommon)

Reward 2: None

Npc #2 - Formation

| | | |
| --- | --- | --- |
| Assassin | Rattan Witcher | Priest |
| Paladin | - | Crossbowman |
| Armored Cart | Priest | - |

Reward 1: Ancient Armor Fragment (Rare)

Reward 2: None

Npc #7 - Formation

| | | |
| --- | --- | --- |
| Paladin | - | Lightning Mage |
|  Lancer     | Lancer   | Axe Infantry |
| Grenadier | -  | Lightning Mage |

Reward 1: Suppressor of Spirit (Uncommon)

Reward 2: None

Npc #3 - Formation

| | | |
| --- | --- | --- |
| Grenadier | Crossbowman | Lightning Mage |
| Grenadier | Lancer | - |
| Grenadier | - | Lightning Mage |

Reward 1: Armor of Raphael (Uncommon)

Reward 2: None

 Npc #8 - Formation

| | | |
| --- | --- | --- |
| Grenadier | Rattan Witcher | - |
| Axe Infantry | Rattan Witcher   | Priest |
| Grenadier | Rattan Witcher | - |

Reward 1: Sir Drake's Firearm (Uncommon)

Reward 2: None

Npc #4 - Formation

| | | |
| --- | --- | --- |
| Magic Drummer | Rattan Witcher | - |
| Axe Infantry | Rattan Witcher | Archer |
| Heavy Infantry | - | Catapult |

Reward 1: Giant Earth Wurm Fragment (Rare)

Reward 2: None

Npc #9 - Formation

| | | |
| --- | --- | --- |
| Magic Drummer | Paladin | - |
| Grenadier | Assassin | Crossbowman |
| Grenadier | Axe Infantry | - |

Reward 1: Viktoryia (Uncommon)

Reward 2: None

Npc #5 - Formation

| | | |
| --- | --- | --- |
| Magic Drummer | Priest | - |
| Armored Cart | Priest | Armored Cart |
| Legionnaire | Priest | - |

Reward 1: Dragon Orb Staff (Uncommon)

Reward 2: None

Npc #10 - Formation #1

| | | |
| --- | --- | --- |
| Armored Cart | Broad Swordsman | - |
| Broad Swordsman | Priest | Armored Cart |
| Armored Cart | Rattan Witcher | - |

Reward 1: Golden Infantry Fragment (Rare)

Reward 2: None