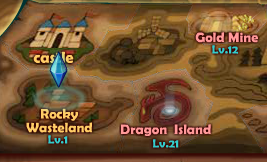 The Dragon Island and Moon Island are two special areas that can be unlocked when you reach a certain Castle level.
Entrance to the Dragon Island requires a level 21 Castle to unlock while the Moon Island requires a level 51 Castle.
Both of these areas can be found on your world map once you reach the corresponding levels.
You do not receive any gold when fighting on the islands, you are instead rewarded with enchantment card fragments. Collect enough fragments to automatically form enchantment cards inside of your inventory, which are then used to empower your troops and also give them a different appearance.
You will also find weapons and armor with greater Fusion Star Potential. Once it becomes possible, it is generally better to farm equipment here rather than in the World Map locations.
Battles on the islands also require a minimum amount of achievement points to unlock, you can earn more achievements by recruiting legendary heroes and by crafting rare weapons and armors.
Pages in category "Enchanted Islands"
The following 2 pages are in this category, out of 2 total.